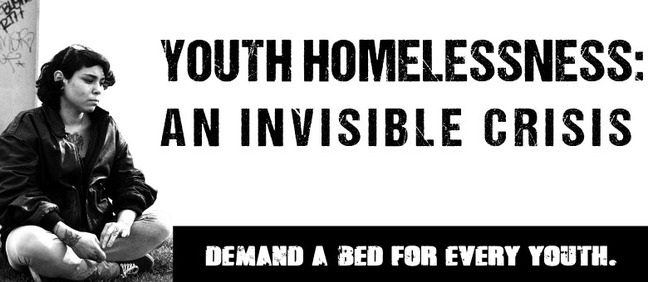 Imagine walking in the footsteps of a kid who has run away from home to escape years of physical abuse, a dangerous human trafficking network, the chaos of life with a drug-addicted parent, or a house overflowing with rage. This is life for so many homeless kids.Who are the street kids? They are the throw away kids, the street kid prostitutes, pimps, drag queens, drug addicts, and dealers who many people have given up on. God has challenged StreetReach to reach out to, love on, and assist these at-risk young people and older homeless out of the street life and into positive surroundings, teaching them to become productive members of society through the power of Jesus Christ. Who are the street babies? They are the children of the street kids, many times living in desperate situations sometimes needing even the very basics of life such as food.
As Darkness closes in, we might be his/her only hope…
Youth Homelessness is a national Crisis!
One out of every 45 children – some 1.8 million – in the United States is homeless, according to a report released by the
National Center on Family Homelessness
. The majority of the children are under age 7. Last year, at least 60,000 more children were homeless.
This is of great concern to our organization and we will make every attempt to restore these youths back to safety. We work closely with the Brunswick County Schools, and Social Services via the Mckinney-Vento Homeless Education Act, in hopes of meeting the needs of the homeless youths attempting to finish school. We currently have setup 3 clothing closets for the needy children in BC Schools, we also distribute food backpacks, hygiene products, new socks upon request.
Children and youth in homeless situations often do not fit society's stereotypical images. For example, many children who are homeless are very young; in fact, 50% of children living in homeless shelters are under the age of seven. In addition, emergency shelters in urban areas cannot meet the rising need for temporary housing, turning away many. Rural areas like Brunswick County often have no shelters at all.
As a result of the lack of shelter, most students in homeless situations share housing with friends or relatives (couch surfing), stay in abandoned cars, live on the streets, abandoned buildings, in the woods and campgrounds.Homeless youth are individuals under the age of 18 who lack parental, foster or institutional care. They are sometimes referred to as "unaccompanied" youth. Consider the following facts:
2.9 million teens run away from home each year in the U.S.
1.8 million youth have slept on the streets in the last 12 months
12-17 year olds are at more risk of homelessness that adults.
1/3 of homeless youth are lured into prostitution within 48 hrs. of leaving home
Homeless teens are 5-6 times more likely to be raped or assaulted than other teens
Homeless youth are 20 times more likely to use crack cocaine
42% of homeless youth have attempted suicide at least once
56% of homeless youth report being physically abused
2/3 of homeless youth have witnessed a stabbing, shooting, rape or murder
Almost 2/3 of homeless youth have witnessed domestic violence
The prevalence rate for substance use disorders among homeless youth are 85%
Help us bring homeless kids off the streets and into safety!
Finding Homeless Kids Before Danger Does
Several times a week volunteers canvass the most dangerous neighborhoods in search of homeless kids. Armed with brochures, plenty of sandwiches, sleeping bags and the offer of on-the-spot assistance, outreach volunteers constant and reassuring presence earns them trust among the youth on the streets and provides them the chance to talk about resources available.
Our Goal/Desire for Every Youth
We see success based on five key outcomes:
Are connected with Christ.
Are connected to a caring adult.
Are involved with a positive peer group.
Are committed to graduating from high school.
Have a plan for the future.
District Homeless Liason Brunswick County Schools
Joyce M. Beatty (910) 253-2900 Ext. 1043





National Runaway Switchboard
National Safe Place
National Network for youth
Brunswick County Social Services
Providence Home
Residential Homeless Teens
(910) 457-0440 - Southport
Behavior Health for Ages 12-17 (Psychiatric / Residential)
2050 Mercantile Dr., Leland, NC
72-beds (910) 371-2500

If you are a runaway youth in crisis and need immediate assistance, please text the word SAFE and your current location (address, city) to 69866. You will receive a message with the closest Safe Place location, youth shelter or the National Runaway Switchboard hotline number (1-800-Runaway). Reply with "2chat" to text interactively with a mental health professional for more help.